Paleolithic Period
The Beginning of Culture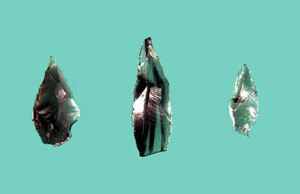 Knife-shaped tools made of obsidian
were used to process game.
It is considered that people began to live in Isehara about 28,000 years ago, though Japan is said to have a history of approximately 50,000 years.Once the history of Isehara was believed to be 18,000 years when knife-shaped tools made of stone were excavated from the Kaminozaike site in Osumidai.However, stoneware was found recently in the 28,000-year-old strata of the Uenodai site (the grounds of Tokai University Hospital in Shimo-Kasuya) and it is considered the oldest artifact of Isehara so far.
It was the coldest time in the Ice Age, which started a million years ago.The average temperature was assumed to be six to seven degrees lower than that of today.Snow on the mountains didn't melt even in summer.The sea level was 100 meters lower than the present sea level, connecting the Japanese archipelago to the Asian Continent.Large-sized animals such as Naumann elephants and bighorn deer inhabited the main island of Japan, surviving the cold climate.People moved around to hunt for them. Stone tools for spearheads and processing game were produced.Very small, sharp stone tools like knife blades were found in the Numame and Sakado sites.Life in the Stone Age, which lasted long till 12,000 years ago, was very difficult because of the harsh environment caused by low temperature and repeated eruptions of volcanoes.Under such adverse conditions, people lived vigorously hunting for game, holding their handmade stone tools.The amount of archaeological material of this age is limited. However, some more artifacts have been excavated from the sites of Hachimandai (Higashi-Otake), Sekidomebashi (Kami-Kasuya), and Shimoyato (Sannomiya), so that we may know more about Isehara of this age.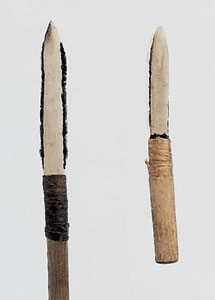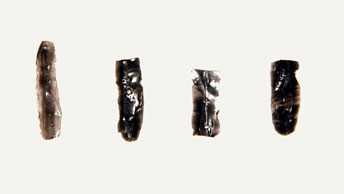 Very small sharp stones were excavated from the Numame and Sakado sites.About 2cm-long stone like a blade was used, mounted in wood or bone, as the picture of the replicas on the left shows.
(The photo on the upper right is owned by the Prefectural Board of Education.)
Next⇒Jomon Period
Previous⇒Geogaraphical Features of Isehara